How To Make Magnetic Slime
Want to learn how to make Magnetic Slime? We put together our favorite recipe, it takes about 8 minutes, makes enough slime for 2 and only needs 4 ingredients!
Before we get started you should know one of the key ingredients in this recipe is iron filing – it won't work without them!
We've got you covered when it comes to letting you in on the key things to know before starting this slime recipe project. We definitely recommend that you have parental supervision while re-creating your own version of our magnetic slime recipe at home.
Magnets and water = RUST: Do not make a large batch of magnetic slime because it will rust in only a few days. You don't want to waste all of your other ingredients to make one batch of slime, mind you magnetic slime is really awesome but requires you to do some research about the ingredients you are using. 
Making the magnetic slime is not as easy as the other recipes we have. This recipe is hard to incorporate the ingredients using your hands, and patience will pay a huge part in your creation. You are using neodymium magnets that will have a very powerful force of magnetism, so that when it mixes with such an ingredient like glue, the texture will feel very heavy and have an ultra pull. That's the best way we could describe our experience in making this recipe. These magnets are NOT to be swallowed. Seriously, do not allow any small children to touch these magnets. Kids being curious to learn is wonderful, but must be properly supervised while you are working with small magnets.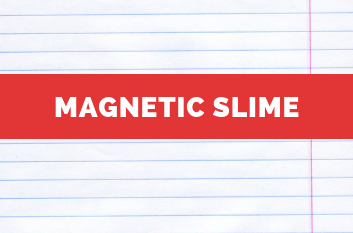 Do Not make this recipe without adult supervision. Parts of this recipe contain ingredients that which could be an interesting snack for small children that like to put things in their mouth. Keep magnets away from children, pets, computers, cell phones and other magnets.
Treat this like you would a fun science experiment where you are having to use chemistry and some good old common sense when it comes to your safety. We recommend using a face mask which covers your nose and mouth and protective gloves for your hands. 
First, empty both bottles of Elmer's Glue into a large glass bowl.
Next, add 1/4 cup of Water to the bowl.
Third, add the Magnetic Powder or Iron Fillings while lightly stirring
Pour in 1 3/4 cups warm Water.
Last, mix in 2 teaspons of Borax and continue to stir until you have magnetic slime!
Sadly, magnetic slime will not last long and begins to rust within two to three days. We recommend making smaller batches and to play with the magnetic slime much as you can then make more another time!
Do not attempt to eat magnetic slime! You can toss the slime into a well concealed trash container or place the slime in a bag that ties or has a closure, then toss inside of a concealed trash container. Most magnets can be thrown away in the regular trash recycle.