How To Make Slime with Body Wash
We found ourselves with nothing really to do for a few weekends which is always the perfect time try out a few new recipes for slime. Would you like to learn how you can make Slime with Body Wash? Obviously, we are big fans of this slime recipe and if you like making slime then you'll enjoy this.
This recipe is really easy, it's just the thing for kids to learn and have fun. To make it only consumes 6 minutes out of your day (plus two waiting days) but that is besides the point. Which is that slime with body wash is a clever thought to come up with in making your own slime! Did we mention that you need only 2 ingredients? That's right, we said two! You definitely have these items around your home.
TIP: If you really can't wait for two days, like you just CANNOT do it, which is understandably probable, you can speed up the slime process by placing the closed bowl of slime into a freezer for 8 to 15 minutes. We want to warn you that the consequences of NOT learning to deal with experiences involving patience might have somewhat of an effect on other experiences dealing with patience. Of course, I am joking, but this is a great life lesson that is quite small, so you can do it, we believe in you.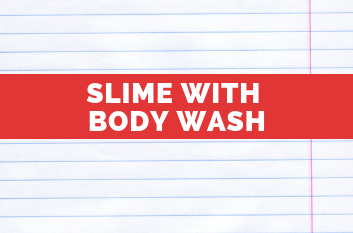 First we will begin by adding the body wash to a bowl.

Then, add sugar, stirring with your spoon until the mixture becomes thick.

Next, place a lid over the bowl of slime and set in a cool dry place for two days.

Come back to your bowl of slime and remove the lid, then take out the slime and stretch it with your hands to enjoy.

HAVE FUN!